I may have (definitely) already mentioned my (and everyone else's) love for the paper-bag waist.
So flattering. So timeless. So comfy and easy. So stylish.
If the phrase for a beautiful woman is 'that girl would look good in a bin bag', someone should introduce the aphorism 'every girl looks good in a paper-bag'
So here's a little post about the wonder of the paperbag waist, because it appears to be my current fave.
Recently I showed you my new favourite shorts
:
I have to resist the temptation to wear them all the time.
Another pair of enduring favourites of mine are these lace paperbag waist shorts from
H&M
. (Which a Google Image search concludes are a favourite of many:
see?
)
So now for a few paper-bag waists on my hitlist (like a wishlist but with more intent):
Modcloth Timeshare Shorts
$34.99
Image from modcloth.com
As usual,
Topshop
is a great place to go for trend-pieces:
£36.00
Image from topshop.com
And
River Island
always have more sophisticated versions of trends: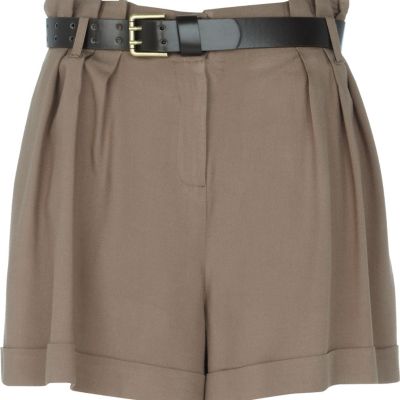 Brown Smart Shorts
£24.99, River Island
Image from www.riverisland.com
But this trend isn't limited to shorts. Trousers are huge this season (literally and figuratively). Never have I seen non-denim trousers be so popular with women. But, surprise, you can also stock up on paperbag waist skirts. Again,
Topshop
have a few styles in both of these.
So why not treat yourself? Tie up that waist and strut your stuff!
Ciao for now,
Charlotte